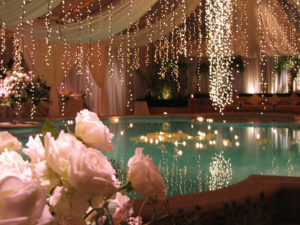 At Eventful Designing, we don't just plan extraordinary weddings and special events…we create them. From classic to cutting-edge, we promise to create every single detail of your special day or evening so that it may live in your memories forever.
Celebrations are an extension of one's personal expression. It's because of this that we pay special attention to what you say and feel. All of the Eventful team understands that listening is one of the most important skills we bring to the table. We never try to overpower your dreams or vision with our ideas. Whether you are planning, a simple birthday party, an elegant wedding, an intimate dinner for friends or an over-the-top awards show, our goal is to turn your vision into reality
Owner Linda Pittelli who has a background in fashion, interior design and film leads the Eventful team. She brings with her the skills she's honed from that creative world. Her creativity knows no boundaries and has helped her become a master of transformation. Turning pool decks into dazzling dance floors that emulate glamorous nightclubs, ordinary tents into grand ballrooms and grand ballrooms into rose-scented gardens. Not one detail of the event is ever overlooked. Food and wines are expertly paired, tables are graced with amazing linens that she designs; lighting that accentuates the focal points and flatters the face. And we never forget that the music and entertainment must enhance the theme while it creates the mood.
Once the best-kept secret, Eventful is now the word among discriminating clientele who turn to Linda and her team when they require something truly special. Eventful Designing has become one of the most sought-after event design and production companies both in the United States and abroad. In fact, destination weddings and events have become something of our specialty. Linda's and her teams combined years of travel, research and relationship building has enabled Eventful to offer clients the use of stunning villas and private estates here in the states and all through Italy' many of which only open their doors to Eventful.
But whether your quest for the perfect event takes you across the ocean or just across your lawn, with Eventful Designing as your guide you can rest assured that it will result in a magical and memorable experience.